In 2002 I developed a computer program that implements the Kisekae Set system, KiSS, a Japanese graphics system originally developed to facilitate costume changes on virtual dolls.
Kisekae sets are drawings of anime characters with many different costumes, packaged in a file for viewing the work. KiSS is a presentation method that allows the artist to program certain actions as you interact with the anime doll.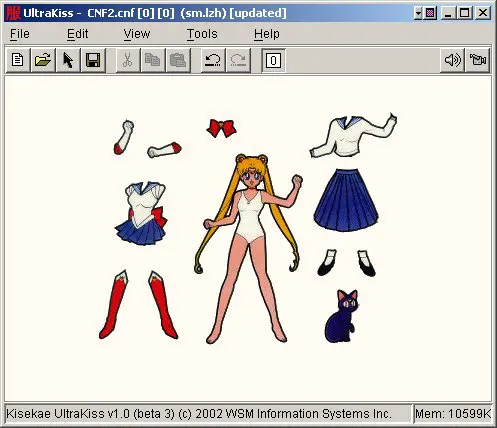 UltraKiss was developed to help artists build their KiSS sets. UltraKiss reads and interprets KiSS data files. These files contain computer graphics images, color palettes and data control files. Objects, such as the doll figure, costumes, and other items are constructed from layered image components that usually show only parts of the complete image. Objects could be manipulated through user actions or through a simple event processing model that enables timed animations or other actions if objects are touched or dragged across the screen. Color variations, enabled through palette changes in UltraKiss, could also be used to produce different results. UltraKiss supported multimedia sound, graphic animation and worldwide web access to KiSS sets through an integrated Internet browser.
In 2008 I ceased this work. Computers were faster and the KiSS model was replaced with better animation tools.
In 2018 I removed this application from my websites. Later, I had a request to restore the application.
UltraKiss is a Java application. If Java Web Start is installed on your system and you enable security permissions to run self-signed applications from this website, you may be able to run UltraKiss from your browser.
Download and Installation
Update: July 19, 2018
UltraKiss 3.3b is now released to enable KiSS set downloads with https: protocol.
JavaHelp was upgraded to version 2 to resolve a code signing issue with Java Web Start.
This version is required to access my historical Kisekae Sets library. To load and run these KiSS sets from my website use the File-Portal menu command.
For Microsoft Windows systems, to install this program locally on your computer, download and run UltraKiss 3.3b-1.0.exe. This is an installer for a fully bundled (72 MB) implementation with a self-contained Java system. This is the recommended way to install UltraKiss on a Windows system.
To install the application for local execution on a system with Java already installed, download and unpack the (23 MB) ultrakiss.zip file. Inside this zip file you will find the kisekae.jar file and a library directory for the required system extensions. This is the recommended way to install UltraKiss on a Linux or Apple system. This install method can also be used for a Windows system.
To run the project from the command line, go to the application folder and type the following:
java -jar "kisekae.jar"
If the .jar extension is configured in your system as a Java application then you can run the program by directly clicking on this file.